**please note, this post contains affiliate links**
Hello everyone!
It has been a good little while since my last envelope art post, and I have quite the collection of photos stored up for y'all to see! Hopefully you get some inspiration from them!
See what I mean by "a good little while"? Well, maybe it's winter or almost winter to somebody reading this. Either way, this is one I did back in November. Watercolor, black gel pen, and white gel pen.
I made this envelope around Christmas, and Jac's sweater has nicely coordinating colors. Done with Sharpies and gel pen!
These two were based off of some envelope art I saw on Pinterest. I put washi tape in the middle and painted leaves around it, added some line art and the address, and voila!
One of my pen pals and I have been sending each other state-themed letters for the past several months and it's a lot of fun! This was the first one I did, for Wyoming. And again, it was done with Sharpies and gel pen.
Chocolate! I kind of enjoy doing monochrome envelope art with just one color of gel pen. And it's fun to add patterns around the doodle/sketch so it fills up the whole envelope.
This one was pretty simple! Just yellow paint with gel pen on top. I like how it pops. Hmm, maybe I should use acrylic paint more often!
Just a little mountain + star doodle on this one! I found out that diamonds and sparkles are a great way to draw stars. *nods*
Eep I love this one! Inspired by the Floret Farm pictures, this little truck + flower doodle was done with watercolor, micron pens, and a white gel pen.
Just a fun little yellow collage envelope with some flower doodles!
Huzzah for ducks! Ducks are so cute and make excellent subject for envelope artwork. (Watercolor + micron pens.)
Another collage one, this time with lots of fun washi tape and a little VW van cut-out from my Travel Snail Mail Kit.
This was done around Valentine's Day and with some new Tombow brush pens. (And of course a white gel pen. :D) I think I made that envelope out of purple cardstock.
Ooh I really like how this collage envelope turned out! I cut out a wildflower illustration from an old wildflower guide I had, and added some other paper and gold washi tape and some little doodles.
Washi tape is a great supply to have when you're low on time! It's fun to make little flags like I did up there. Also, having a bunch of different widths of tape adds some variation to it.
Here I just lettered one of my favorite Bible verses on the side of the envelope with a sharpie and the ever-present white gel pen!
I actually used a gold gel pen to write the letter inside this, and just barely had enough ink for the gold accents on the envelope. The words on this envelope are from the hymn "Take My Life and Let It Be", but I have no idea what song the sheet music is for.
I got some pressed flowers and used a few in this simple envelope art design. Yay for yellow!
Ooh I really like how this one turned out! I did this for another state-themed letter. I drew the outline of Virginia and added some dogwood flowers (Virginia's state flower) around the edges. All of this was done with white gel pen on a red envelope.
Wow, almost all of my collage envelope are yellow. XD This was another pressed-for-time envelope which turned out pretty cute, but if you do this be sure to glue the paper on very well or it might come off and your pen pal will just get a piece of yellow paper with their address and a stamp. Oops.
A cute little polaroid photo doodle I did on Charis' envelope! Colored envelopes are fun to use when you just draw/paint on one part of the envelope. Well, to be honest they're fun to use whenever. 😛 I love colored envelopes!
I just realized how much I love strawberries on things! They are so fun and summer-y and not to mention yummy, when you have the real thing. I sent a strawberry themed letter to this pen pal, and went with a simple watercolor strawberry pattern for the envelope.
Another pattern, this time with some fun simple flowers done in Sharpie. I carried the colors over to the lettering in the name as well.
Okay, last pattern one. I just doodled some simple stars all over this one with some sort of pen.
This one was when I got a new white gel pen and my goodness it was way better than what I was using before. XD
Yay for the trees being green again! This was done with watercolor and gel pen.
Arkansas had the only running diamond mine in the US, and so for the Arkansas letter I did I drew some blue diamond(ish) shapes all over the envelope. Hehe whoops, I guess there was still another pattern one, my bad. Anyway, I did this with my one of my pastel Tombow brush pens and a Sharpie pen.
And finally, another monochrome gel pen doodle envelope. How many of those books have you read?
I also have a few whole-letter photos I took when I did entire letter themes.
I'm really happy with how this one turned out! I used various supplies from the Space Snail Mail Kit for it.
Another Valentine's Day one. It was VERY pink as you can plainly see. I don't like pink, but I do occasionally send pink themed letters so I can use up all my pink supplies. Also I included several music-y things, including (gasp) white gel pen music notes on the envelope.
And finally, my pride and joy. A VeggieTales themed letter! A lot of it is just watercolor veggies with subtle VeggieTales stuff added in like the playlist of Silly Songs and the theme song lyrics on the stationery. But Larry is not exactly subtle on the envelope art.
And that brings the mail art to a close! Before I go though, I've been wanting to give you a few Peach & Poppy Co. updates! P&P is my snail mail Etsy shop and it has certainly been keeping me busy lately. I have several new snail mail kits listed which you can check out through the link, and I also started a personalized snail mail subscription that I'm very excited about! You can see that in my Etsy shop and right here.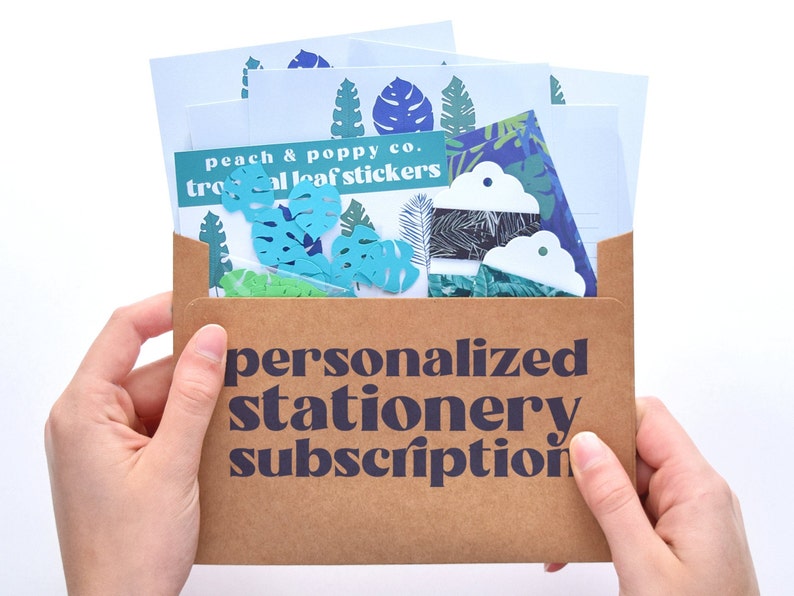 Finally, if you like hearing updates on the shop and want to see sneak peeks of upcoming products, feel free to subscribe to the email list I just recently started! I'll be sending out monthly updates, so sign up HERE if you want to read them.
Alright, that does it for this post! I hope you enjoyed reading it! If you want to read my other snail mail posts, click on the links below.
favorite letter-writing supply?
have you been sending more letters because of quarantine?